Thomas Tütken
---
Bones and teeth are valuable archives of the life history and behavior of vertebrates. The bioapatite of the skeletal remains records in its element and isotope composition information about the animal's diet, physiology and mobility as well as climate and environmental conditions (Fig. 1). If this geochemical information is not biased by chemical alteration during fossilization, it can provide valuable insights into the paleobiology, paleoecology, and evolution of extinct vertebrates.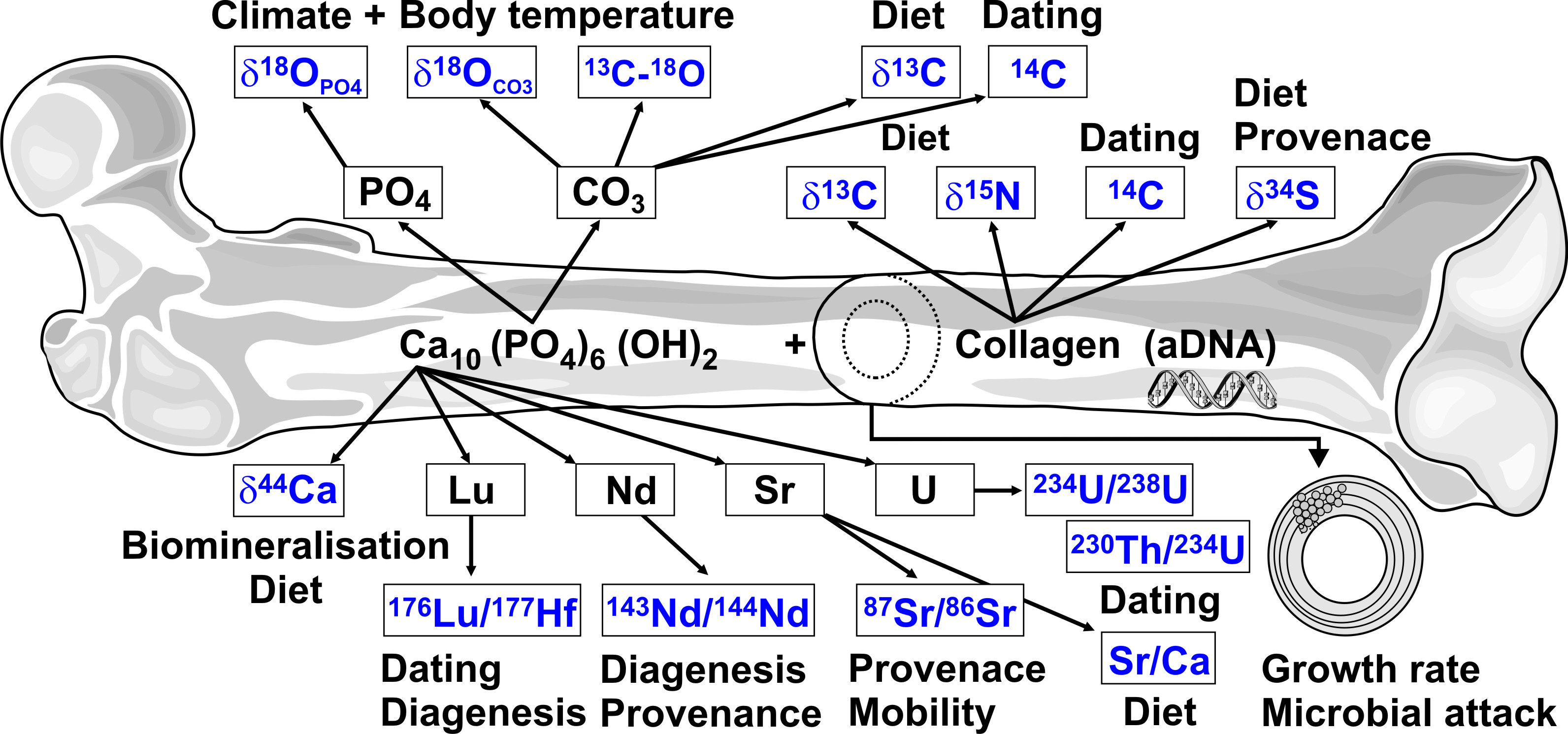 Fig. 1. Bone isotopes.
I use different isotope systems (C, O, Ca, Sr, Nd, Lu-Hf) in fossil bones and teeth to infer their diet, body temperature, mobility and age. For such geochemical investigations it is crucial to monitor the chemical changes resulting from the fossilisation. Tooth enamel is the tissue with the best preservation potential for the original biogenic isotope compositions even over millions of years while bone seems to behave as an open system.
The chemical, mineralogical and histological changes in fossil skeletal remains during diagenesis themselves are a valuable source of information in their own right. They enable us to characterize and quantify the post-mortem history, diagenetic milieu, taphonomic processes and the timing of fossilization and hence to what extent the original chemical information stored in the bioapatite and the biomolecules has been altered or retained.
As geochemist and paleontologist my main research focus is on the isotope geochemistry of skeletal remains of fossil vertebrates of various taxa such as dinosaurs, mammals (including humans), sharks and others. I pursue my research in interdisciplinary research contexts with colleagues from different fields such as geochemistry, paleontology, archaeology, anthropology, material sciences and animal nutrition.
In my ongoing ERC Consolidator Grant VERTEBRATE HERBIVORY we aim at developing a new toolbox for dietary reconstructions by combining 3D dental surface wear as well as calcium and strontium isotope analysis of teeth (Fig. 2). These non-destructive, respectively, minimally invasive techniques will be first validated in controlled feeding experiments and then applied to fossil teeth for dietary reconstructions of extinct vertebrates and past food webs. The ultimate goal is to assess the evolution of plant-feeding among mammal ancestors and dinosaurs.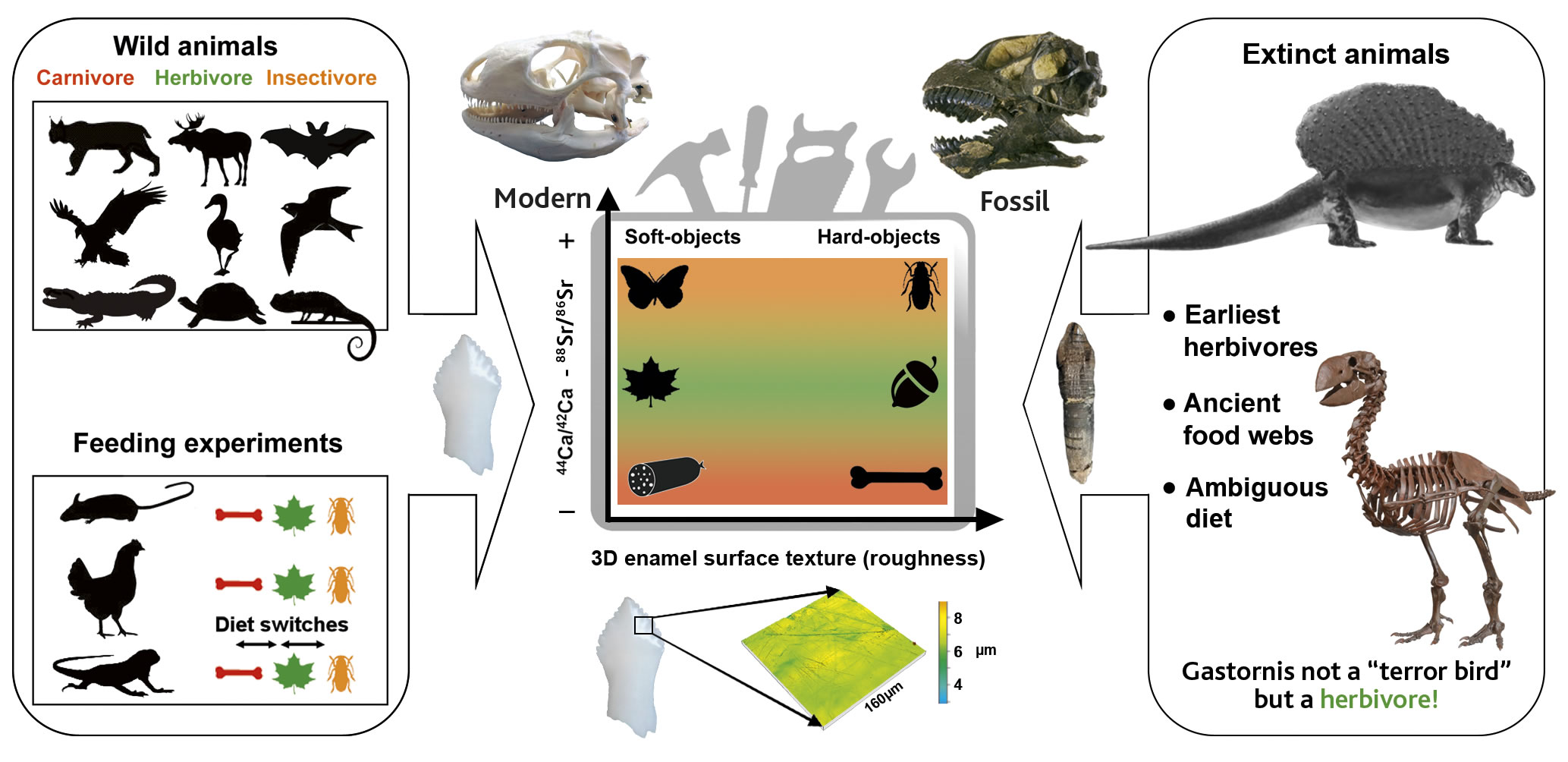 Fig. 2. Dietary proxy tool box. Combined Ca isotope and enamel surface texture analysis applied in a single tooth approach. Reconstruction of Gastornis by Hellmund & Stache 2015; photo: M. Scholz, Halle (Saale).
My research directions include the following:
• Development and application of non-traditional isotope proxies for bioapatite
• Diet of extinct taxa; combined calcium isotope and dental wear analysis
• Thermophysiology of fossil vertebrates inferred from clumped isotope analysis
• Paleoclimate reconstruction by phosphate oxygen isotopes
• Provenance and mobility determination of humans and animals by isotope fingerprinting
• Diagenesis and fossilization processes of bones and teeth
CV
Since October 2013: Academic Senior Councilor ("Akademischer Oberrat"), permanent scientific staff, Applied and Analytical Paleontology, Institute of Geosciences, University of Mainz, Germany
2013: Assistant Professor, Environmental Geology group, Steinmann-Institute, University of Bonn, Germany
2007-2012: Research group leader of the Emmy Noether group "Bone geochemistry", Geochemistry group, Steinmann-Institute, University of Bonn, Germany
2006-2007: Senior Research Associate, Applied and Analytical Palaeontology, Institute of Geosciences, University of Mainz, Germany
2005-2006: Postdoctoral researcher, Dept. of Geochemistry, Institute of Geosciences, University of Tübingen, Germany
2003-2005: Postdoctoral researcher, Institute for Mineralogy and Geochemistry, University of Lausanne, Switzerland
1999-2003: PhD student, Dept. of Geochemistry, Institute for Geoscience, University of Tübingen, Germany
Awards, fellowships and honors
Since 2017: Adjunct Professor ("Apl.-Prof.) (University of Mainz)
Since 2017: Faculty Member of the Max Planck Graduate Center (MPGC) (Mainz)
2016-2019: Gutenberg Research College (GFK) member (University of Mainz)
2016-2018: Feodor Lynen Research Fellowship (Humboldt Foundation)
2016-2021: ERC Consolidator Grant "Vertebrate Herbivory"
2011: Best oral presentation, 22nd Senckenberg Conference "The World at the Time of Messel"
2007-2012: Emmy Noether Research Fellowship (DFG)
2005-2006: Postdoctoral fellowship (DFG, "Eigene Stelle")
2004: Best geoscience dissertation award, University of Tübingen, Germany
1995-1998: Stipend by the German Academic Scholarship Foundation ("Studienstiftung des Deutschen Volkes")
Publications